Get Around - Taking a Leisure Trip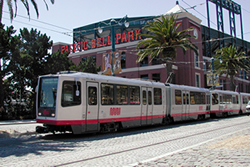 By train or bus.
511 can help you explore many of the Bay Area's top sights and destinations, including parks, museums, and sports venues, using public transportation. Check out the Popular Destinations page to plan your trip.
By car.
If you plan on driving to your destination, use 511 Driving TimesSM to estimate your driving time in advance. Choose 'Specific Day and Time' to plan for your future trip. Then when you're ready to leave, check the 511 Traffic page to view a map of current congestion and incidents, calculate your trip's current driving time, and check breaking traffic news. You can also call 511 and ask for "Driving Times" or "Traffic Conditions."
My trips. My way.
Make the most of your free time and avoid sitting in traffic. If there are leisure trips you make frequently – to sporting events, friends' houses, or the gym – you can save those trips on MY511.org. With MY 511, 511's free personalized service, you can get a personalized 511 home page for your favorite trips. Plus, when you call 511, you'll be able to bypass the regular menu options to go straight to driving times and transit departure times for your trips. You can also register for text and e-mail alerts. Sign up today at MY511.org.