The San Mateo 101 Express Lanes Project from Whipple Avenue to Interstate 380 (I-380) is under construction. To sign up for weekly or quarterly updates, email with the subject line 'Weekly' or 'Quarterly' to 101express@dot.ca.gov. Follow the project on Twitter @CaltransD4.
Existing carpool lanes are being converted to express lanes between the San Mateo/Santa Clara County line and Whipple Avenue (blue solid line) and new express lanes will be constructed between Whipple Avenue and I-380 (red stripped line). This will result in 22 miles of express lanes in each direction of U.S. 101.
Visit the project website at 101express.com and follow the project on Twitter @CaltransD4.
UNDER CONSTRUCTION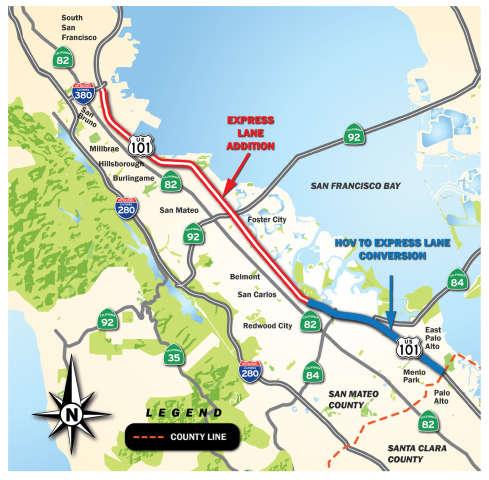 Hours of operation: TBD
Carpool occupancy: 3 or more people
FasTrak:
All drivers will need FasTrak to use the future express lanes

Carpools, vanpools and motorcycles will need FasTrak Flex (set in the proper position) to use the future express lanes. Eligible Clean Air Vehicles will need a FasTrak CAV Tag (FasTrak.org).
Project construction began in February 2020 and is currently scheduled to last through mid-2022. Throughout 2020, construction activities will occur on the freeway lanes, shoulders, and ramps. Construction work will also occur on local city streets. Beginning early 2021 through mid-2022, construction activities will occur in the freeway median. Lastly, the project area will be repaved and restriped before the new lane is open for operations.
Plan for nightly lane closures and potential delays. Travelers will be able to see real-time traffic conditions from changeable message signs placed in the construction zone. Check construction updates.
Contact
Press contact: Caltrans Public Information Officer Alejandro Lopez at (510) 286-4948
Lane operator: San Mateo Express Lane JPA