Text 511Alert to 888-777 to get a free heads-up on transportation emergencies
511ALERT provides alerts and advisories about transportation emergencies by text message (SMS) to registered mobile devices. The alert system is powered by Nixle, a recognized leader in mass notification systems and allows 511 to provide alerts and advisories in a reliable manner. Before signing up, please review the terms of the Nixle privacy policy to determine how Nixle collects, uses, and/or retains personally identifiable information.
Enroll Now!
To register your mobile device to receive emergency transportation-related alerts and advisories for the Bay Area:
Text "511Alert" (no space) to 888-777.

You will receive a response text message confirming your registration.
Make sure you receive registration confirmation that you have registered with 511ALERT. Please re-register if a confirmation text message is not received.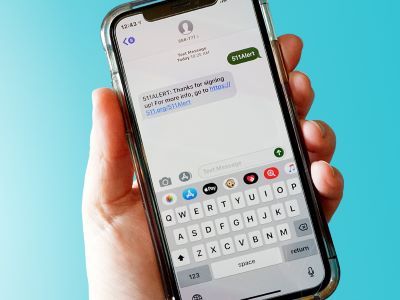 What is 511ALERT?
511ALERT is a text-based notification system for travelers in the greater Bay Area. In the event of an emergency such as an earthquake, tsunami or other catastrophe, registered Nixle users will receive up-to-date, accurate transportation alert information gathered from various trusted government sources. These alerts will complement the information currently provided by 511 on its website, phone line, and social media channels. The text-based alerts do not require a smartphone to register and can be viewed easily without the inconvenience of logging into a website. 
To stop receiving alerts and advisories 
If at any time you decide to stop receiving text message alerts and advisories, simply text the word STOP to 888-777.
While the text messages are free, users are encouraged to contact their wireless service provider to determine whether they will incur additional charges for receiving text messages on their mobile device.
511 PROVIDES THIS INFORMATION AS A SERVICE TO THE GENERAL PUBLIC. WHILE WE ATTEMPT TO PROVIDE ACCURATE AND TIMELY INFORMATION, THE NATURE AND DURATION OF ANY PARTICULAR TRANSIT SERVICE DISRUPTION OR ROADWAY CLOSURE ARE SUBJECT TO CONDITIONS BEYOND THE CONTROL OF 511. THOSE RELYING ON THIS INFORMATION DO SO AT THEIR OWN RISK AND NEITHER THE METROPOLITAN TRANSPORTATION COMMISSION, THE PUBLIC ENTITY THAT OPERATES 511, NOR ANY OF ITS EMPLOYEES OR AGENTS SHALL BE LIABLE FOR INJURIES OR DAMAGES RELATED TO THE ACCURACY OF THIS INFORMATION OR ANY ACTIONS TAKEN AS A RESULT.