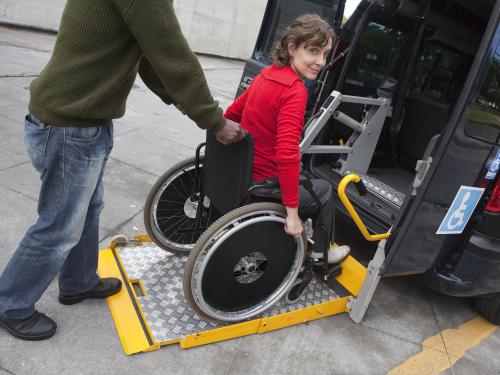 Accessible Transportation Options in the Bay Area
For most people using public transportation, the most convenient and flexible way to travel is by bus or train. It costs less and requires less planning than paratransit. Here are some of the features you will find on most transportation systems in the Bay Area (contact your local operator to find out details about transit in your area):
Buses and trains equipped with wheelchair lifts or low floor ramps to allow easy access for people with disabilities.
Priority seating for those who need it.
Drivers trained to provide assistance in securing wheelchairs in designated spaces.
Bus drivers trained to allow passengers time to be seated, and to get on and off the vehicle.
Announcement of stops at major intersections, transfer points and, at the request of passengers, specific destinations.
BART and Muni Metro stations with elevators to the boarding platforms - once on the platform, it is easy to board the train.
Route and schedule information provided by transit agencies, including the best way to reach your destination.
This information is available in accessible formats if needed. If you are unfamiliar with using public transit, travel training may be available to teach you how to travel comfortably and safely on a bus or train.
Need more information about your transportation options?
For more information about how to ride the bus, train, or ferry, or if you'd like help planning a trip, call 511 to connect with your transit agency.
Regional Transit Agency Accessibility Information