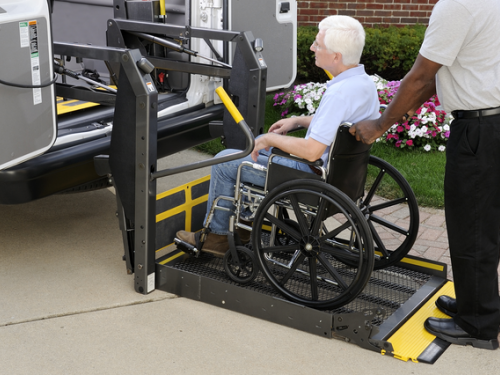 Over twenty agencies in the San Francisco Bay Area provide public transportation using buses, streetcars, trains, ferryboats and paratransit vehicles. The Americans with Disabilities Act (ADA) requires that transit agencies make their services accessible to people with disabilities. ADA paratransit is just one of the mobility options in the Bay Area. Find out which is the most appropriate for you.
What is the ADA?
The Americans with Disabilities Act (ADA) is an important civil rights law passed in 1990 that has greatly increased the transportation options for people with disabilities. The law called for improvements to transportation services, including the availability of paratransit service. The ADA does not require a transit agency " to meet all the transportation needs of individuals with disabilities." But it does ensure that people with disabilities receive "the same mass transportation service opportunities everyone else receives."
ADA paratransit service is a "safety net" for people who, due to their disability, are unable to ride regular buses and trains some or all of the time. ADA paratransit is a parallel service to fixed-route transportation services (buses and trains). This means paratransit services operate in the same area, on the same days and during the same hours as the public transit operates. Paratransit service may be provided on small buses, vans, taxis, or in sedans. It is generally a shared ride service that must be reserved at least one day in advance. The service picks you up at your door or at the curb and takes you to your destination. The vehicle may make several stops on the way to your destination to pick up or drop off other passengers. The pick up time you are assigned may vary by up to one hour from the time you requested. Paratransit drivers do not enter people's homes or their destination locations. Riders who need extra assistance beyond what the driver provides may bring an assistant or "attendant" with them at no additional charge.
Before using paratransit, a person must be determined eligible because his or her disability prevents use of regular buses or trains some or all of the time.
ADA Paratransit Eligibility
To use ADA paratransit, riders must first qualify for this parallel service. Disabled persons who are unable to use regular buses and trains some or all of the time may apply for eligibility by calling the local transit agency in their area and asking for an application. In the Bay Area, most of the transit agencies use the same ADA paratransit application form and follow a common certification process. If you are found eligible by one transit operator, you will be able to use any ADA paratransit program throughout the Bay Area. Learn more on how to apply for eligibility.
The Bay Area's regional ADA paratransit certification process is based on federal regulations that identify three categories for determining paratransit eligibility.
According to the law you may be eligible for paratransit if:
Your disability prevents you from boarding, riding, or getting off a bus or train, without the help of someone else.
The service you need is not accessible. (Since most transportation systems are accessible in the Bay Area, this category seldom applies).
Your disability prevents you from getting to or from a bus or train stop.
Have more questions? View our ADA Paratransit FAQ
List of Transit/Paratransit Operators
Call 511 to connect with your transit agency. For information about paratransit, either use the keypad or say "paratransit" at the main menu voice prompt. At the next voice prompt, say the name of the city where you live for information about the paratransit provider that operates in your area. Within each transit operator's website you will find additional paratransit information.