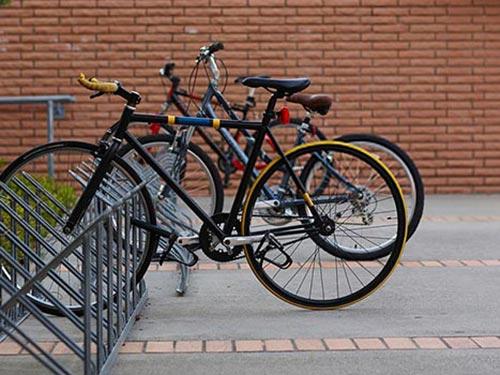 Once you arrive at your destination, you'll need to know how and where to park your bike. Bike racks & corrals, parking meters, and bike lockers are all appropriate places to park your bike. Trees and chain-link fences are not recommended for bicycle parking.
Bike Lockers
Unlike conventional bike lockers that are rented to one person only, eLockers can be used by any cyclist with a Bike Link card. This card is pre-purchased and used to access any unoccupied locker. The eLockers have been installed throughout the Bay Area. For more information, including videos demonstrating how to use the eLockers, go to www.bikelink.org.
Bike Stations (Attended Bicycling Parking)
Attended (or valet) bicycle parking is available at select BART and Caltrain stations. All you have to do is grab a ticket, fill out your name and contact number on the valet's half, and take the other half with you. When you're ready to pick up your bike, give the valet your ticket and retrieve your bike.
Bike Theft Prevention
Taking a few simple precautions can significantly decrease the chance of your bike getting stolen.
Register your bike: Use Bike Index to register your bike in a few easy steps.
Use a quality U-lock: Always use a quality U-lock (not a cable lock) to secure your bike.
Know how to lock: Secure your wheels with cable around both wheels. Lock the U-lock to the bike frame (never just the wheels) and to a secure rack or pole.