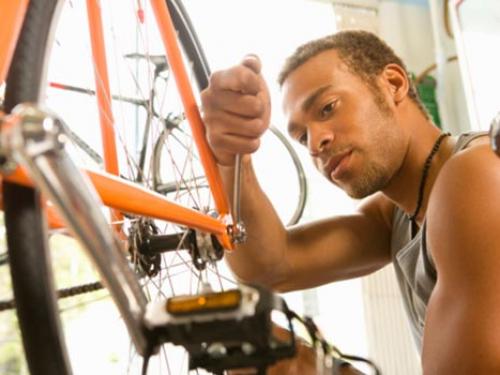 Maintenance Tips
Bicycle safety starts with a properly maintained bicycle. Below are some tips for things to check on your bike to ensure it is properly maintained:
Tires: Keep your tires properly inflated; tires lose air gradually over time. The correct pressure is printed on the side of your tire.
Brakes: Your brakes should be tight enough so that when you apply the brakes the wheels do not turn. While standing next to the bike, apply the brakes and walk the bike slowly to see if the brakes are tight enough.
Chain: A bike that has been sitting for a while needs chain lube to keep the shifting smooth. Apply a small amount of lube to the chain and wipe off the excess. Make sure to use a lube for bicycles, which can be found at your favorite bicycle shop.
Wheels: Make sure the wheels are properly tightened to the frame. If your bike has quick release levers, tighten them so the lever can't rotate on the frame. If you have bolts, make sure they are securely tightened.
Lights: Don't be caught out in the dark without front and rear lights. Check to make sure that your lights work.
Repair Kit: You should have a small kit that includes a spare tire tube. Make sure the tube has the correct valve for your bike (there are two kinds). You should also have a small multi-tool that has a wrench to take off your wheel, pump and tire levers to remove the tire from the rim.