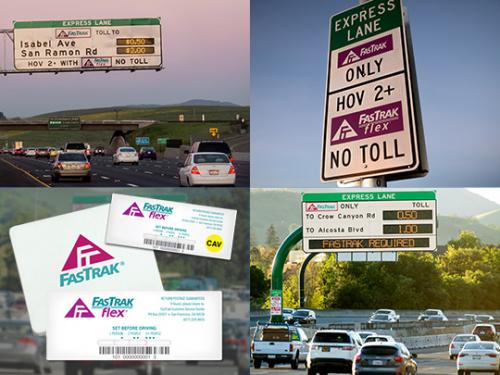 Get FasTrak to use the Bay Area Express Lanes!
ALL drivers must have FasTrak. Carpools must have FasTrak Flex and eligible Clean Air Vehicles need FasTrak CAV toll tags.
Before you start driving set your toll tag to the number of people in the car. Carpools and eligible Clean Air Vehicles get free or discounted tolls.
Understanding Express Lanes
NBC Bay Area news explains how express lanes work.
Learn the basics about how Bay Area Express Lanes work. 
---
What You Need To Know
Understanding Tolls

The price to use the lane goes up or down every few minutes depending on traffic. Learn more

View this video about understanding tolls on the I-880 express lanes. Tolls work similarly on all the Bay Area Express Lanes.

Enforcement

The California Highway Patrol (CHP) performs enforcement for all Bay Area Express Lanes. CHP enforces all laws within the California Vehicle Code while patrolling Bay Area Express Lanes, including:

Carpool occupancy requirements
Clean air vehicle requirements
Proper mounting of valid license plates
Illegal lane and buffer crossing
Proper mounting of a valid FasTrak® toll tag
Proper switch position setting on a FasTrak Flex® toll tag

Express lanes have automated toll enforcement like at Bay Area bridges*. License plate cameras identify vehicles in the express lane without a valid FasTrak® toll tag, and FasTrak sends the registered vehicle owners violation notices for the toll amount and penalties. This helps to make sure express lane users follow the rules.