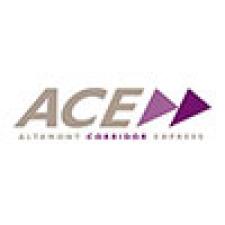 The Altamont Corridor Express® (ACE) operates eight commuter trains each weekday in the Altamont corridor: four westbound trains in the mornings, and four eastbound trains in the afternoon and evenings. ACE travels between Stockton and San Jose, with additional stops in Lathrop/Manteca, Tracy, Vasco, Livermore, Pleasanton, Fremont, Great America, and Santa Clara.
ACE in conjunction with WHEELS provides free shuttle bus service (Wheels Route #54) between the ACE Pleasanton Station and the Dublin BART station and return, and service to Stoneridge Mall via Wheels route #53. 
Additional peak hour connections to ACE include Modesto Max, Modesto - Lathrop/Manteca station; County Connection Rte #920 Pleasanton to Bishops Ranch, San Ramon, Danville; Fremont station to Stanford AC Transit "U" line; Great America Station offers free shuttles to many points throughout the Silicon Valley. 
ACE railcars accommodate rider's bicycles free of charge.
Parking at ACE owned stations is free. 
---
Website

Email

Phone

Fax

N/A

Address

949 East Channel Street, Stockton, CA, 95202

Mode

Train
Transit Centers
There are 4 Transit Centers that serve Altamont Corridor Express.
Transit Accessibility Services
All ACE trains and facilities are ADA accessible and accommodate powered and non-powered wheelchairs. Contact ACE Customer Service for additional information Monday through Friday (4 a.m. - 8 p.m.) 1-800-411-7245.
Bicycle Access
Learn More about Bicycle Access on Altamont Corridor Express
511 Phone Service
From the Main Menu, use a shortcut to go directly to Altamont Corridor Express (ACE) by saying: "Altamont Corridor Express (ACE)"
From inside the Transit Agency menu, you can say any of the following agencies. If you want to use the touch-tone options, press the number "18" for Altamont Corridor Express (ACE).
Learn More about the 511 Phone Service
Clipper
Clipper is currently accepted on Muni, BART, AC Transit, VTA, SamTrans, Caltrain and Golden Gate Transit and Ferry, and will eventually be accepted on all forms of Bay Area public transit. For information on using Clipper, please visit https://www.clippercard.com/ClipperWeb/index.do.