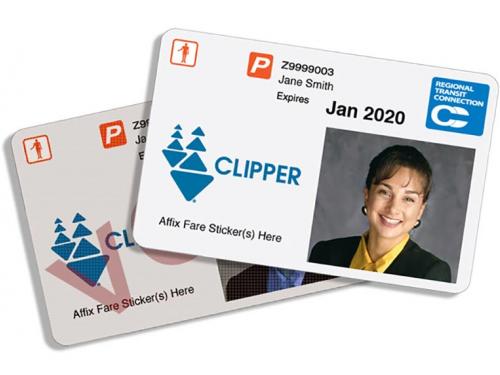 If you applied or renewed your RTC card before January 2020, your card has an expiration date. When it expires, you will need to renew and receive a new card.
If you have applied or renewed using the Medical Certification form after January 1, 2020 and your disability is permanent your card does not have an expiration date. These cards do not need to be renewed. The RTC program will contact you to update your photo and preferred communication method every five years.
Renewing a Card
The RTC program notifies customers to renew approximately 60 days before the expiration date. Renewal notices are sent to the address on file with the RTC. It is your responsibility to update the RTC program with your current address. If you do not receive a mail reminder, you can download the renewal application (PDF) or ask the transit agency to mail it to you. 
If renewing using a DMV Disabled Parking Placard, please see the additional Information section. This section explains the supporting documentation that you need to include with your renewal application.
Renewal applications are accepted at San Francisco Bay Area transit agency locations.  Please check the RTC card processing locations page for current hours of service.
Renewing card holders can mail in the completed application to the RTC Central Processor (address below), if renewing before January 9, 2022, please include a $3 check or money order.
 
RTC Central Processor
P.O. Box 70040
Oakland CA 94612-0040
Additional Information
For those using DMV Disabled Parking Placards

Your renewal application must include your new DMV Placard number so that it can be verified.

If applying in person, bring the DMV Placard registration issued by the DMV with you.
If applying by mail, send a photocopy of the DMV receipt with your application.
About Replacement Cards
Replacement cards are usually sent within 7-10 days and the program does not issue temporary cards.  Please take care of your card. You will be charged a replacement fee if the card is damaged due to poor care.  There is a limit of 3 replacement cards within a 12-month period. The RTC program has a "Disability Justification" form for additional replacements. This form must be certified by your doctor and mailed directly to the Central Processor. This form can be requested at the time of your 4th replacement application.
Replacing Lost or Stolen Cards
You can download the Lost Card Application (PDF) or go to a transit office or call and ask for an application to be mailed to you. 
Completed applications can be submitted to a transit agency or sent directly to:
Central Processor
P.O. Box 70040
Oakland CA 94612-0040
Replacement cards requested before January 9, 2022 require a $5 payment (check or cashier's check). After January 9, 2022 the fee is $3. Do not send cash.
Please confirm your current address on the Lost Card Application. You can choose to have your card sent to a transit agency.
Have more questions? View our RTC FAQs