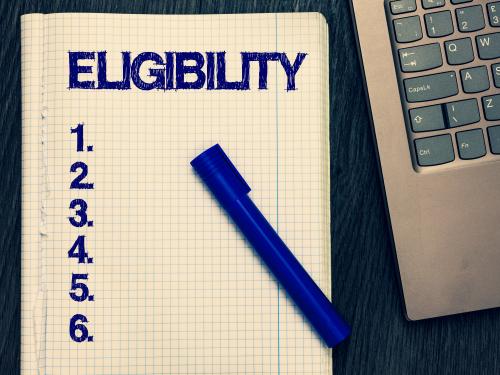 There are two types of eligibility for the RTC card:
Basic Eligibility, or
Medical eligibility
If you have a Medicare card, we suggest that you submit a "Basic Eligibility" application.
Basic Eligibility
Download the Basic Eligibility Form (PDF)
If you are eligible under one of the "Basic" categories noted below, you may apply under that category. "Basic" eligibility does not require medical certification. To qualify for Basic Eligibility, bring original documents of one of the following with your application:
Medicare card, the federally-issued red, white, and blue card - only for those under 65 years of age. (NOTE: Medi-Cal is not accepted for eligibility.)
California DMV Placard Registration parking placard receipt. If you bring the blue or red placard, you must also bring the registration receipt. If you have disabled license plates (DP) instead of a placard, you must submit a "Medical Eligibility" form.
Other California transit agency card that is equivalent to the RTC Card.
Proof of Veterans Disability-- A copy of your Service Connected Disability ID card and your VA Certification letter demonstrating a disability rating for aid and attendance, or for a service-connected disability with a rating level of 50% or higher. Please note that it may take more than several months to verify your application with the VA due to their current work volume. For a quicker turnaround, it is recommended that you submit a "Medical Certification" application instead.
Medical Eligibility
Medical Eligibility Forms are available in person from your local Transit Agency RTC processing location, or you can request that one be mailed to you. Find your local Transit Agency RTC Processing Location at the bottom of the RTC Overview page.
To qualify under "Medical Eligibility," you must be certified by one of the licensed professionals described below.
To qualify for Medical Eligibility:
Complete the appropriate sections of the Medical Certification form. Forms are available from your transit agency.
Sign the application in two places: 1) to authorize your doctor to release information, and 2) to indicate your acceptance of RTC Program terms. If your application is not signed in both places, it cannot be processed and will be returned to you.
Bring the Medical Certification form to your "Certifying Professional." The Certifying Professional must complete the form and mail the green copy to the Discount ID Card Program Office at the address shown on the form. Your application will be considered incomplete unless the certifying professional has returned the form.
Keep the other copies and bring them with you when you have your photo taken at your transit agency. It is recommended that you have the form completed before going to the transit agency. If your doctor has not completed his/her portion of the form, the process could take more than 21 days.
Photocopies of the medical application are not accepted under any circumstances.
If you are submitting a medical application, only the following professionals who are licensed in the State of California to diagnose may complete the form:
Licensed physicians with an M.D. or D.O. degree, licensed physician's assistants and nurse practitioners may certify in all categories in which they are licensed to diagnose
Licensed chiropractors, categories 1, 2, 3 and 4
Licensed podiatrists, disabilities involving the feet under categories 1, 2, 3 and 4
Licensed optometrists (OPT), category 9
Licensed audiologists (AU), category 10
Licensed clinical psychologists (PSY) and licensed educational psychologists (LEP), categories 15, 16 and 17
Licensed Marriage and Family Counselors (MFT), and Licensed Clinical Social Workers (LCSW), category 17
Your certifier's address and medical license information (required on each application form) will be verified with the California Medical License Board, and will be entered into our database.
Eligibility Criteria Section Codes