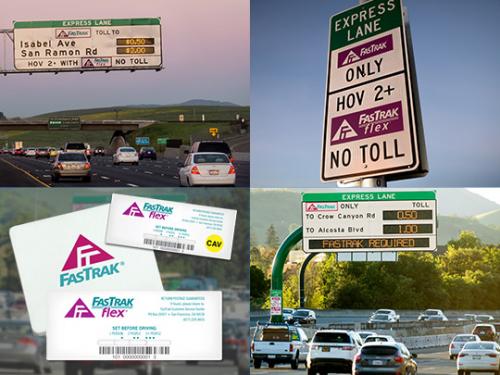 Get FasTrak to use the Bay Area Express Lanes! Bay Area Express Lanes allow vehicles to pay tolls, pay discounted tolls, or travel toll-free for a faster, more reliable trip.
Get Ready! Tolling starts on US-101 between Whipple Ave. and SR-237 and on SR-85 between US-101 and Grant Road in early 2022.
---
What You Need To Know
How Express Lanes Work

To use Bay Area Express Lanes, drivers must have FasTrak. Carpools must have a FasTrak Flex toll tag in the vehicle set to the 2 or 3+ position to get carpool toll discounts. All lanes operate 5 AM to 8 PM. Learn the basics about how Bay Area Express Lanes work. Some rules are lane-specific, so learn the details too: 580, 680, 880, 101, 237.

Am I Toll Exempt?

Motorcycles and vanpools travel toll free on all Bay Area Express Lanes with a FasTrak Flex toll tag set in the 3+ position. On the I-680 and I-580 Bay Area Express Lanes, 2-person carpools are toll free, while on I-880, US-101 and SR-237 2-person carpools pay half-price tolls with a FasTrak Flex toll tag set in the 2 position. See "For Carpools" and this video about FasTrak and Express Lanes.

Solo-driver clean air vehicles travel toll-free or pay half-price tolls depending on the express lane, but eventually solo-driver clean air vehicles will pay half-price tolls on all Bay Area Express Lanes. See "For Clean Air Vehicles."

See this table for an at-a-glance view of each lane's tolling policies.

Getting In/Out

Bay Area Express Lanes have sections where access into or out of the lane is restricted and sections where it is unrestricted.

Unrestricted sections are marked with dashed lines separating the express lane from regular traffic, and cars can enter or exit the express lanes in these sections.

Restricted sections are marked with double white lines. Crossing double white lines is a traffic violation. If you are in a section with double white lines, highway signs explain where to exit the express lane to access highway exits.

Learn more about "Restricted Access," "Mostly Open Access," and "Open Access" (PDF)

Pricing and Signs

The price to use the lane goes up or down every few minutes depending on traffic. Learn more

Signs show one or two destinations and the price to travel to each.
You are guaranteed the zone prices shown when you get in the lane, even if they change down the road.
Depending on where you get out of the lane and the lane's specific tolling rules, you pay either the top price, the bottom price or a price in between.
Your monthly FasTrak® statement will show the start and end point of each express lane trip and the price you paid.
The pricing signs on some express lanes may occasionally display "HOV ONLY" instead of a price. This indicates the lane is too crowded and does not have room for toll-paying vehicles to enter.

Enforcement

The California Highway Patrol (CHP) performs enforcement for all Bay Area Express Lanes. CHP enforces all laws within the California Vehicle Code while patrolling Bay Area Express Lanes, including:

Carpool occupancy requirements
Clean air vehicle requirements
Proper mounting of valid license plates
Illegal lane and buffer crossing
Proper mounting of a valid FasTrak® toll tag
Proper switch position setting on a FasTrak Flex® toll tag

Express lanes have automated toll enforcement like at Bay Area bridges*. License plate cameras identify vehicles in the express lane without a valid FasTrak® toll tag, and FasTrak sends the registered vehicle owners violation notices for the toll amount and penalties. This helps to make sure express lane users follow the rules.
Bay Area Express Lane Videos
Watch the video to the left for a quick overview of Bay Area Express Lanes.
Watch this video playlist to learn how to use the I-880 Express Lanes.
Watch this video playlist to learn how to use the I-680 Contra Costa Express Lanes.