1) As of October 2, 2020, solo drivers of CLEAN AIR VEHICLES pay half-price tolls to use the I-680 Contra Costa Express Lanes; 2+ toll-free. FasTrak CAV tag required.  
2) As of August 2020, ACCESS to the express lane southbound from Rudgear Road to Stone Valley Road is restricted with double white lines. 
3) In spring 2021, the I-680 Contra Costa Express Lanes will be extended. Tolling will begin southbound from Marina Vista Ave. in Martinez to Rudgear Rd. in Alamo to create a continuous 25-mile southbound express lane to best use lane capacity.
General Info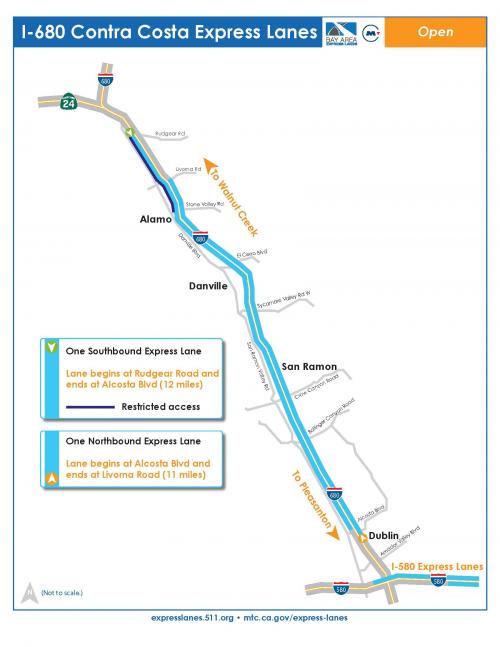 Hours of operation:
MON-FRI, 5:00 AM to 8:00 PM
Carpool occupancy: 2 or more people
FasTrak:
Solo drivers – You must have a standard FasTrak or FasTrak Flex toll tag (set to '1') to pay to use the lane.

Carpools, vanpools and motorcycles must have a FasTrak Flex toll tag (set in the proper position) to travel toll free. Eligible Clean Air Vehicles must apply for a FasTrak CAV Tag (BayAreaFasTrak.org) and set it to the proper position.
Contact
Press contact: John Goodwin
Lane operator: Metropolitan Transportation Commission
Videos
Resources