The I-680 Contra Costa Express Lane runs northbound and southbound between Walnut Creek and San Ramon.
On August 20, 2021, tolling will start on I-680 southbound from Marina Vista Ave. to Rudgear Rd. to create a continuous 23-mile  southbound express lane from Martinez to San Ramon. Learn more.
General Info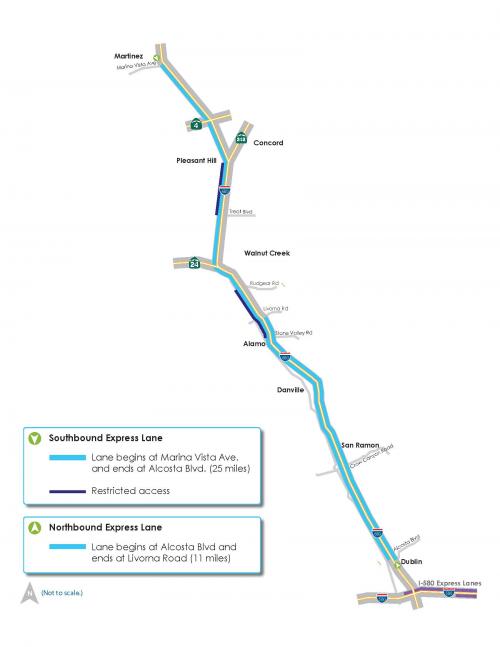 Hours of operation:
MON-FRI, 5:00 AM to 8:00 PM
Carpool occupancy: 2 or more people
FasTrak:
Solo drivers – You must have a standard FasTrak or FasTrak Flex toll tag (set to '1') to pay to use the lane.

2+ carpools, vanpools & motorcycles need a FasTrak Flex toll tag (set in the proper position) to travel toll free. Clean Air Vehicles must get a FasTrak CAV Tag (getfastrak.com) and set it to the proper position. Solo-driver CAVs pay half-price tolls.
Visit getfastrak.com
Sign up for MTC Express Lane news
Access to the I-680 southbound managed lane is restricted with double white lines from SR-242 to Treat Blvd. and from Rudgear Rd. to Stone Valley Rd.

Contact
Press contact: John Goodwin
Lane operator: Metropolitan Transportation Commission
Videos
Resources